Title: Configuring Spaces to Read Mail
As of TeamPage Release 4.2 it is recommended to use the Server Level mailbox, from which routing rules can point messages to specific spaces. However, Space level mailboxes are still supported.

Each Traction space can be assigned a POP3 or IMAP4 mailbox, which it can poll on a specified interval. Mail messages and their attachments can be posted to that Space provided that the permissions settings of the project allow the sender to post via email.


Setting Mail Server Defaults


In order to simplify configuring many mailboxes on the same mail server, you can specify default settings for a mail server in Server Setup. Then, for each Space, you need only enter the username and password for the Space's mailbox.

You do not need to configure defaults; it is just a convenience.

Default space mailbox settings are specified on the Server Email Settings dialog, which you can launch from Server Setup | email by clicking the Advanced Settings button.





Alternatively, you can click the Server Settings button in any Space Mailbox Settings window.





This displays the Server Email Settings window. This window is divided into three sections: SMTP Connection Settings, Default Space Mailbox Settings., and Advanced Connection Settings.



Server Information


Many of the values below have defaults listed. To apply a default, click the "use default" checkbox. The value will be reset to the default when you click the Apply button to apply your changes.


Protocol and Encryption


Select the protocol you would like to use with your mail server. You can choose POP or IMAP. Depending on your selection, the options underneath will change.




With POP, you can choose SSL. POP3 over SSL is usually referred to as POP3S.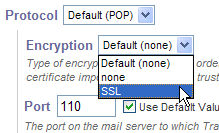 With IMAP, you can choose STARTTLS or SSL. IMAP over SSL is referred to as IMAPS. Most administrators prefer STARTTLS to IMAPS, which is considered to be deprecated on most systems.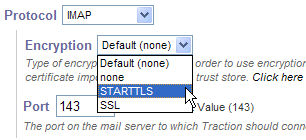 Important! If your mail server's certificate is not signed by a top-level certificate authority, you must configure Traction to trust your mail server. You do this using the Using the Trust Manager, which you can launch using the link in the tip text.





The best time to use the Trust Manager is after testing your mailbox and getting the error:

javax.mail.MessagingException: * BYE JavaMail Exception: javax.net.ssl.SSLHandshakeException: sun.security.validator.ValidatorException: No trusted certificate found; nested exception is: com.sun.mail.iap.ProtocolException: * BYE JavaMail Exception: javax.net.ssl.SSLHandshakeException: sun.security.validator.ValidatorException: No trusted certificate found.

An example of doing this is provided below.


Port


Choose the port that your mail server uses for the protocol you chose.

The following table lists the default ports for the various protocols:


| | |
| --- | --- |
| Protocol | Default Port |
| IMAP (with or without STARTTLS) | 143 |
| IMAPS | 993 |
| POP3 | 110 |
| POP3S | 995 |
Other Information
Polling Frequency


This control lets you specify how frequently projects should check for new mail.


Space Administrator's Email Address


If mail to a given project can not be posted, due to permissions, Traction will send an explanation to the sender. List here the address you would like those messages to be sent from.





Note: by default, bounce messages will not be sent to people who do not have a Traction account. If you want bounce messages to be sent to these people, set

emailreceipttovisitor=true

in

Traction.properties

while the server is shut down. By default, bounce messages will be sent to registered users if their posts are rejected. To turn these bounce messages off, you can set

emailreceipttouser=false

. There is currently no web interface to control these settings.


Mail Filters


You can control what mail filters are enabled. Mail filters are plug-ins that can evaluate, reject, or transform incoming email messages before they are posted.

Normally the default mail filters are enabled.





If you un-check the Use Default Value selection, the interface expands to show the list of mail filters installed in the server.





The filters listed in the Selected column are evaluated in the order in which they appear in this list. You can change the order by selecting a filter and clicking the up and down arrows. If you would like to disable a filter, you can select it an click Remove. To enable a disabled filter, click Add.