Title: Personal Information

In this tab, you can specify your full name, email addresses, and profile information. You can also specify your profile picture and, optionally, over-ride the default sections that show your contributions. It's important to update the email address field to support the various email functions (notification, sending email out, publishing via email) available in Traction and it's important to fill in the rest of the information so that other users can learn more about you on your Profile Page.

The profile information will be displayed in your Profile Page which is accessible via the People search box, or by clicking your user or full name when its seen anywhere in the interface (for example, when you post an article or comment, or in Metrics views that show who read a given article).

Clicking on an article's author name:





Leads to the author's Profile Page:



The Personal Information Tab


The tab is broken into three areas:


Personal Information
Organization Information
Profile Page


Accounts without Access Address BookAccess Address Book permissions will not see any of the information in the Personal Information area or Organization Information area other than your Username and Full Name. The content in sections defined in the Profile Page area will still display to the extent the user has read permissions for the projects.


Personal Information Area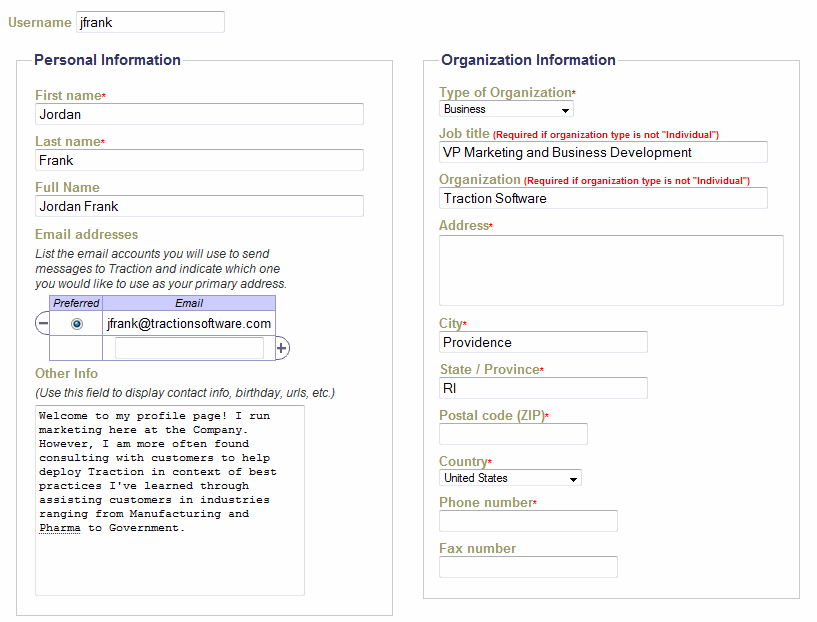 Username


Usernames can only be changed by users with Server Setup permission. If you are a server administrator, this field will be editable; otherwise it will not.


Name


Enter your full name. If you are connected to an external directory system, this field may have been filled in from the directory.


Email Addresses


You can specify all of your email addresses here. If you use an external directory, some number of email addresses may be pre-filled in for you; you can still add additional addresses. Traction uses this list of email addresses for various purposes:


If a project is configured to read a mailbox and publish it's contents, the e-mail reply addresses are used to name you as author of email messages you send to Traction. If you might send email from one of several different email accounts, it's important to list them all.

Your preferred email address (which you select with the radio button) will be the default From address on articles and email replies you send from Traction.

Email digests and email notifications configured by you or by server administrators will, by default, be sent to your preferred email address (unless you choose not to receive digest or email notifications). You can choose to direct digest and notifications to one of your alternative addresses.


To add additional email addresses, fill in the address and press the +) button.


Other Info


The Other Info box allows you to insert any text you want to use to describe yourself or provide additional contact information. You can include some HTML tags (e.g. HTML link or image tags) in this box.


Organization Information Area


This area allows you to enter information about the organization you are part of, if there is one. Most of the fields are self-explanatory, but you should keep in mind the following:

Type of Organization and Country are entered via pulldown menus from supplied choices.

All of the other fields allow any alphanumeric characters to be entered with no checking of what is entered, so be careful to proof what you type in.

The "required" fields marked with

*

or

(Required if organization type is not "Individual")

are not enforced.



Profile Page Area


This area allows you to 1) customize the sections that appear on your Profile Page and 2) add or change your picture.




See Profile Sections for information on customizing the sections on your Profile Page.

See Profile Picture for information on adding or changing your picture.