Title: Filter Notifications by Event Type
When setting up Email Notifications, you will typically want to narrow the types of actions that you receive email notices on in order to avoid cluttering up your email system with unnecessary notifications. You can do this by filtering using sections or by filtering by event type. Note that if you turn both methods on at once, you will receive this warning:





You should select the filtering method that works best for narrowing down your email notifications in the manner desired and activate only that method.

When using filtering by event type, you simply place the types that you want notifications on in Selected and place the types you don't want notifications on in Available.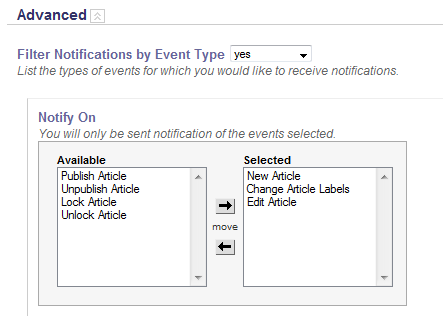 As with filtering using sections, this setting interacts with other Email Notification settings. However, as opposed to filtering using sections, the event types chosen will always apply to all Subscribed Projects.